Back in July, I took my first class at
exhale Core Fusion
(yes, the lowercase 'e' in exhale is how they write it. Very e.e. cummings, no?) Core Fusion was founded back in 2003 by Elisabeth Halfpap and Fred DeVito, a wife-husband duo who worked at the venerable Lotte Berk Method studio in New York for many years, along with my girl Tanya Becker from Physique 57. The Lotte Berk studio was dying on the vine by that point, so Fred and Liz branched out to join forces with exhale spas to offer barre-fusion classes based on the Lotte Berk technique.
Fred and Liz putting CFers through their paces

Going downtown to Core Fusion is a bit of a schlepp, but once you're there, it's a lovely experience. It's an event--something for which I feel I should don a pillbox hat and white gloves, except that is obviously not the most functional garb for working it.
One of the nice things about Core Fusion is they offer different types of classes. In addition to traditional barre, they have classes called 'cardio,' 'sport,' 'bootcamp' and a variety of yoga options (things called 'chill' and 'power yoga.') They also have specialty classes like 'thighs and gluteals' and advanced barre.
Back in July I took a barre class while DH brought the small people over to ride the Swan Boats in the Public Garden. Everyone was happy.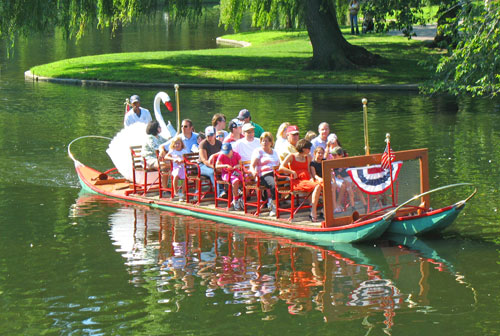 The class was traditional barre, no surprises in terms of types of exercises. It didn't produce a huge cardio effect, but it was excellent strength training. The class was led by Back Bay studio manager Denise, whose cueing and instruction were excellent. The class was small and they had a floater along with Denise correcting form and offering encouragement, so there was a lot of personal attention. The other women in the class were very friendly and the whole place had a lovely vibe. I left with the major post-workout 'lalalas.'
About a week later, I received an email from Denise with a limited-time offer. Oh my, holy sweet deals, Batman. (You know how I feel about a deal.) However, you may have heard my primal scream when I realized DH was going to be out of town for the duration of the offer, along with all our babysitters. I hate to beg favors off friends and neighbors unless it's for a doctor's appointment or an emergency trip to the Children's Hospital.
I was tempted to do it anyway, and just send the small people to the Public Garden with a wad of cash for Swan Boat rides and ice cream, but given that they were only five and two years old, it seemed like kind of a bad mother thing to do. So, I had to let this beautiful deal pass me by.
Just the other day, I decided to send Denise a could-I-still-get-the-deal-pretty-please-with-sugar-on-top email. Couldn't hurt to ask, right? And guess what?! She said YES! One-time-special-favor type offer. I'm filled with warm, fuzzy feelings towards Core Fusion, and I have exciting new classes coming my way. I can feel the lalas setting in already....
Core Fusion's home base is New York (of course), but they also have two locations here in Boston, as well as several other cities, including one on the resort island of Turks and Caicos. (All very posh locations--welcome to the wonderful world of barre.) If there isn't a CF near you, they have a number of DVDs. I have done a few of them and honestly, they don't quite light me up. There are some on hulu.com, so you could try them out and see what you think.
Alternatively, subscribers to
yogavibes.com
can access not only lots of yoga 'practices,' but also some live CF classes! That's money, people. The live classes are great. I subscribed to yogavibes a few months ago to do the CF classes alone and they were awesome. Yogavibes offers a free 15-day trial, so you can check it out risk-free, AND they offer subscribers a FREE class at an exhale Core Fusion studio.
On Friday I'm scheduled for a Core Fusion Cardio class. I'm not going to lie--I'm a little scared, especially since I'm bellying up to the Pure Barre bright and early tomorrow morning. Basically, I'm having my turkey sandwiched between two barres. I can't think of anything better. Lalalala.....